A couple of our favorite and most spirited players are moving off-island in the next few weeks (note we did not say most talented) .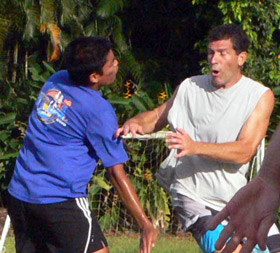 Join us on the fields in Hanalei Sunday, April 1st at 3:00pm, for a doubleheader in honor of Ken "OG" Liberty and David "End Zone/Handle With Care" Tamayo. We'll move to Grandpa's beach at 5:00pm for some beach ulty. This party is rain or shine. We'll move to the Hanalei Pavilion if it dumps.
Bring booze/grillables and/or something that doesn't need to be heated.
Let's send these awesome mofo's off with style!