The Games
Games are Sundays 4:30 and Tuesday/Thursday 4:30 pm at Lydgate. It's getting dark earlier now so let's try to keep that "Hawaiian Time" in check.
We usually hang out and talk story afterward, so please feel free to stick around and pillage the coolers. Check the mailing list if you have any questions. We're pretty good about letting the list know about any rainouts or cancellations.
EAST SIDE
Every Thursday 4:30pm; Tuesday's 4:30pm; Every Sunday, 4:30 – sunset (and beyond)
Note: Tuesday's are now an advanced day.
New players are more than welcome, but understand that on Tuesdays we'll be working on improving our skills and understanding of strategy so it will be more structured than Thursday or Sunday.
North Lydgate Park Sports Field
Turnout: Sunday's always have 7's and subs; Thursdays usually 7's; Tuesdays: mixed.
Very occasionally we'll get bumped by soccer. If that happens you can find us on the big field by Kamalani playground.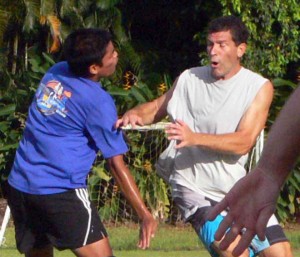 All games are co-ed and all experience levels are welcome. It's a game of Aloha, only in Ultimate vernacular, we call it spirit.