Sunday, for one day, is Saturday
Due to various alignments of the moon/stars, etc. there will be not much (if anything) happening this Sunday. Instead, there's a beach ultimate game at Secrets Beach Saturday August 30 at 4pm. Next Sunday, September 7th is, of course, our monthly big game at Lydgate.
Hopu Kalewa
For the first time Kauai is going to field a team at Hopu! Aside from our regular games, there will be team practice and scrimmage once per week until the tournament in November. If you're interested talk to Aaron or Troy.
The Games
Games are every Sunday in Hanalei and Kalaheo and every Thursday on the east side at Lydgate. We usually hang out and talk story afterward, so please feel free to stick around and pillage the coolers. NEW: The first Sunday of each month only we forgo Hanalei and Kalaheo and instead meet up at Lydgate field for a huge game and potluck bbq — we've had 20+ people each time so far!
Check the mailing list if you have any questions. We're pretty good about letting the list know about any rainouts or cancellations.
It's true that these sorts of pages are notoriously out of date but as of August 29, 2014, this one is exactly accurate!
WEST / SOUTH SIDE
Sundays, 4:00 – sunset (
Note:
The first Sunday of each month is an island-wide game at Lydgate)
Kalawai Park, Kalaheo
Turnout: 10-14, consistent. We started play in October 2012 and have had good games almost every week since!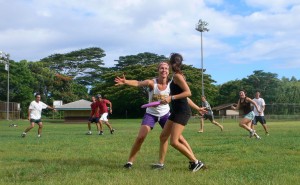 NORTH SHORE
Sundays, 5:00 – sunset (
Note:
The first Sunday of each month is an island-wide game at Lydgate)
Hanalei Soccer Fields
Turnout: Turnout very spotty here in early 2014. Make some noise on the list if you want to get something started. This field is likely the most beautiful setting you will ever play in.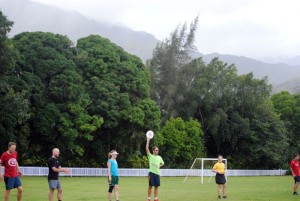 EAST SIDE
Every Thursday, 5:00 – sunset
North Lydgate Park Sports Field
Turnout: Rocking. Lately, you've gotta run hard to get your playing time in. That's a helluva good rebirth for East Side ultimate!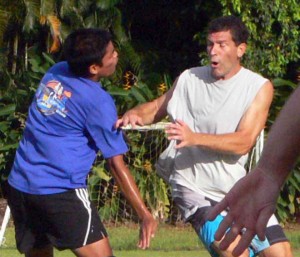 Co-ed. All experience levels welcome. It's a game of Aloha, only in Ultimate vernacular, we call it spirit.